ประสบการณ์เขียน CWNE Essays และตัวอย่าง
หนึ่งในเรื่องที่หินที่สุดตอนสมัคร CWNE (Wi-Fi Expert) Certification คือนอกจากจะต้องสอบ Cert รวม 6 ใบ (cert ของ CWNP 5 ใบ + cert นอกอีก 1 ใบ) แล้วยังต้องเขียน Essay อีก 3 ฉบับที่แสดงถึงความรู้ความสามารถของผู้สมัครในการดีไซน์ วิเคราะห์แก้ปัญหาเกี่ยวกับ Enterprise Wi-Fi จากประสบการณ์จริง

ซึ่งกลุ่ม CWNE แนะนำให้เขียนเกี่ยวกับ Design, Troubleshooting และ Security อย่างละหัวข้อ และตอนนั้นก็รู้แล้วว่าจะเขียนเรื่องอะไร
แต่ที่พีคคือเวลาผ่านไปเกือบปีแต่ยังไม่ได้เขียนซักประโยค 😒 ไม่ใช่ว่ายุ่งไม่มีเวลา แต่ผลัดวันไปเรื่อยๆจนไม่ไหวแล้ว หงุดหงิดกับตัวเองมาก เลยใช้วิธีใช้ผ่องเพื่อนกดดัน ป่าวประกาศใน Social เลยให้ว่าให้เวลาตัวเองแค่ 1 เดือนต้องส่ง ประมาณว่าทำไม่ได้นี่หมาเลยนะ 555

สรุปวิธีนี้ได้ผล! 😆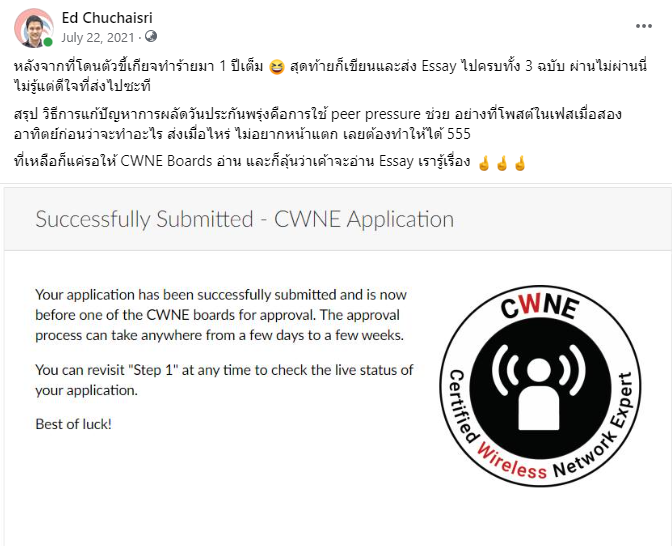 จากนั้นรออีก 2 เดือนกว่าทาง CWNP ก็ Tweet มาว่าผ่านแว้ววว เป็น CWNE คนที่ 449 เป็นวันที่โคตรดีใจ ได้พิสูจน์ตัวเองว่าเราทำได้
ผมเลือก essay มา 1 ฉบับมาเป็นตัวอย่างเผื่อเป็นประโยชน์กับคนที่กำลังจะเริ่มเขียน หรือถ้าต้องการความช่วยเหลือหรือคำแนะนำเกี่ยวกับ Cert ของ CWNP ทักมาได้เลยครับ อยากเห็นบ้านเรามี cert นี้กันเยอะๆ  
---
Eliminating Interference: A Key Battle Toward a Better Guest Experience
Poor Wi-Fi is a universal theme in the hospitality space. It indiscriminately plagues hotels of all types--large or small, local or international, city or resort. In fact, with my years of experience working with hundreds of hotels, Wi-Fi related issues often ranked the top-5 of all guest complaints; and my goal was to reverse that.
My customer was a prestigious 5-star business hotel in Bangkok. After years of poor Wi-Fi experience, the hotel decided to replace its existing 802.11n WLAN with a proven 802.11ac solution. Their objective was to deliver a fast and reliable Wi-Fi Internet to their guests.
Fast forward two years, slow Wi-Fi was still the most common guest complaint followed by connectivity and roaming issues.
The problem became so overwhelming that the GM witnessed himself. What he noticed was not only the speed test results were different from location to location, the speed at the same location could be different from time to time as well. He could get close to the maximum 100Mbps (the ISP provisioned speed) but another test could see the speed drop below 10Mbps, making it impossible to guarantee a good Wi-Fi experience. That revelation convinced him that he and his guests had a serious reliability issue, and I was called in to examine the situation.
The locations that received the highest guest complaints were the high-density areas such as lobby, meeting rooms, and executive lounge.
I began my investigation in the lobby. Per brand standard, the single SSID policy was mandated for both 2.4GHz and 5GHz, and the first thing I noticed was both my phone and laptop tended to associate to the 2.4GHz more often than 5GHz.
A quick speed test showed 2.4GHz could only muster out 20Mbps whereas 5GHz got close to the max speed--a 70Mbps gap.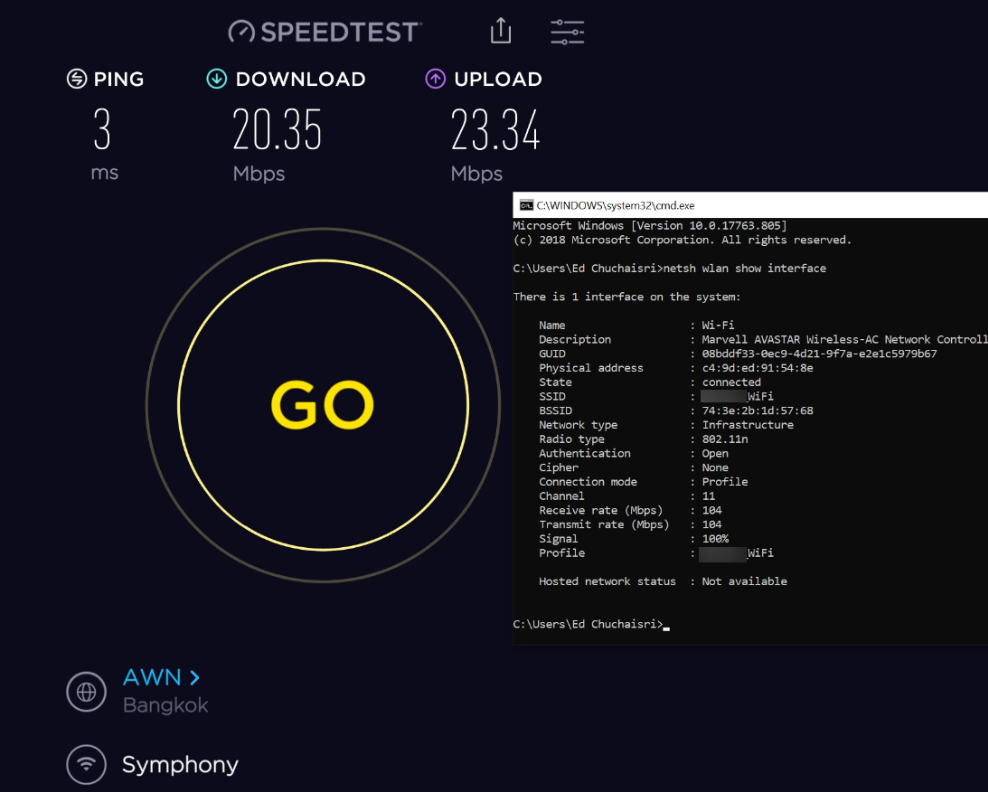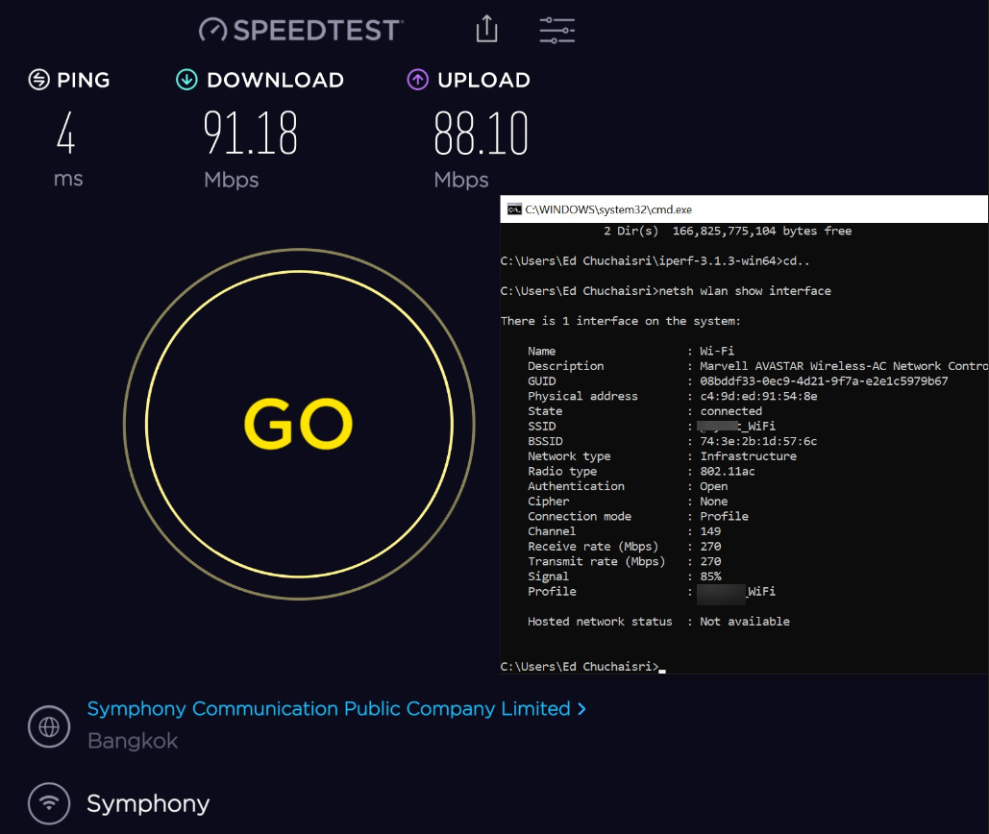 Next, I used an industry-recognized tool for WLAN, the Ekahau and Sidekick to capture RF, and to my disbelief, I counted no less than 30 hotel's BSSIDs with RSSI above -85dBm--loud enough to trigger CCA and suppress other device transmissions.

Channel selection and width were not optimal with channel 3, 4, 8, and 40Mhz-width enabled causing Adjacent Channel Interference (ACI). ACI is more harmful compared to Co-Channel Interference (CCI) because instead of waiting for channel to clear before transmission, devices will ignore signal detect and talk over each other causing collisions and retires.

The 5GHz channels were considerably cleaner with four 40 MHz non-DFS channels--36, 44, 149, and 157 but they still suffered high CCI from the sheer number of APs installed.
Next, I used Wireshark, a protocol analyzer to assess the damage from interference. Using a L2 tool, I could count frames and I quickly noticed the retry rate on 2.4GHz was consistently hitting above 50%.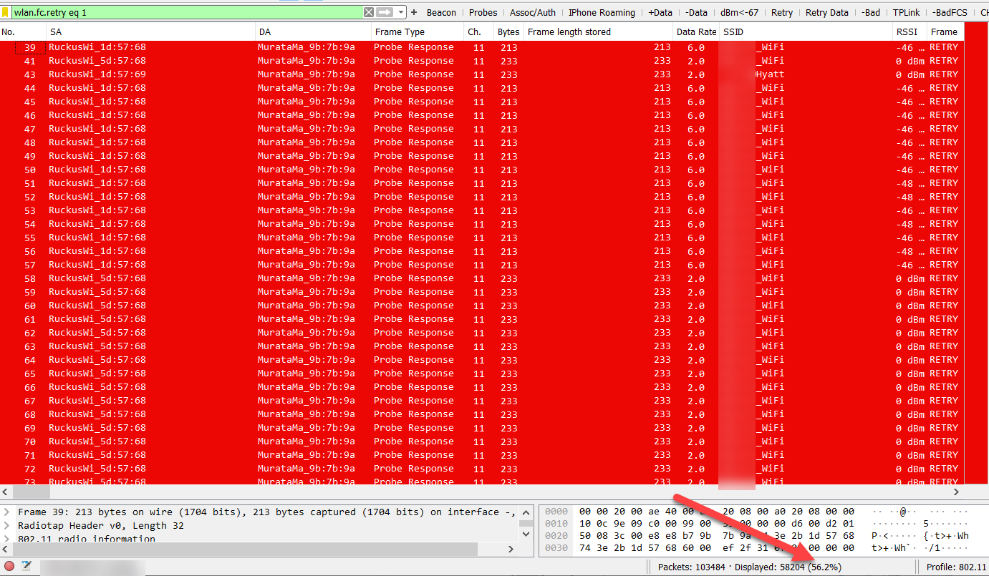 The 5GHz band performed much better keeping the retry rate below 10%.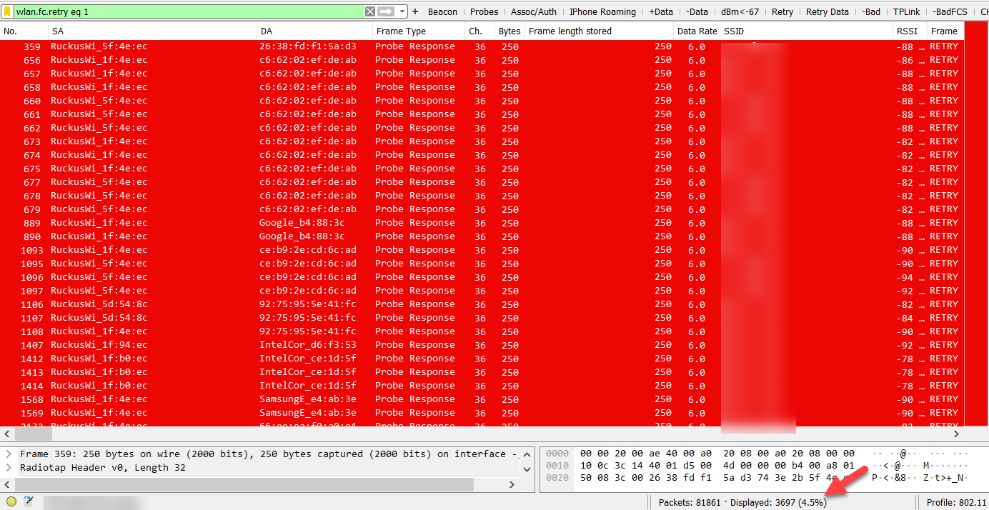 After my investigation, it was clear that channel interference was the underlying cause that contributed to poor guest experience.
The root cause stemmed from poor design, and locations with high AP count suffered the most. Most guests tended to connect to the 2.4GHz, creating congested channel; and coupled with poorly configured RRM like channel selection further caused excessive CCI/ACI that made 2.4GHz barely usable.
To fix this, the hotel had to move clients to the 5GHz band. Naturally, hotel's Wi-Fi is BYOD. Guests could bring any devices and expect it to work whether it was a single-band 1x1 fitness tracker or a 3x3 MacBook Pro. The hotel just could not turn any guests away, so offering 2.4GHz was still a requirement. My advice was to enable band steering to entice more 5GHz-capable devices to 5GHz. It may not always work, but it was worth a shot.
Next, I recommended disabling RRM, or force it to strictly use channel 1, 6, and 11 and disable 40MHz channel on the 2.4GHz. The goal was to minimize ACI.
On 5GHz, I recommended using 20MHz channels instead of 40MHz. This effectively expanded the available non-DFS channels from 4 to 9. A 20Mhz channel on a clean airspace could deliver 80 Mbps of TCP throughput and it should be plenty for most guests.
My final recommendation was to conduct a full passive survey to get the coverage map of each AP. With that information, we could further fine tune the RF by tweaking TX power and/or selectively turn off a few 2.4GHz radios to minimize interference.
There were other Wi-Fi issues I didn't cover in this essay e.g. too many SSIDs that consumed airtime, APs on the guest corridor that caused sticky clients, aesthetic over functionality trade-offs like hiding APs inside cabinets making coverage unpredictable; but I focused on interference because it was the most crucial one. If we could only fix one thing that would maximize guest experience, this was it.
In summary, the knowledge I gained from CWNP immensely helped me better assess the situation and understand causes and consequences. Knowing what tools to use and when to use them prove extremely valuable. I wish I had this knowledge years ago when one of our hotel partners hosted a major IT conference and the hotel's Wi-Fi failed during his keynote; and no one knew what to do.
As I last heard, the hotel got its service provider to make changes per my recommendations, but we still don't know the outcome because the Covid-19 outbreak quickly paralyzed Thailand's tourism and the hotel halted all activities shortly after. But I remain convinced these proposed changes, if done correctly, will make a big difference to the guest experience; and that means I am moving a little closer to my goal.